For over 15 years Pax Company has been the leader in producing various rides and designing park concepts. The company creates «turn-key» park projects, including the park design, manufacture and assembly of rides.




How does one set about building a new park? Any park starts with a concept, an idea, and, certainly, a plan.
This chapter gives examples of how to build an attractive and lucrative mini-park on an area of 0,5-2 Hectares. Naturally, budget for such a facility is also rather restricted. This park may be created on the town green, near a mall or a big hotel (e.g., in the parking lot), on the holiday home territory, and on the beach.
Choice of equipment is, as a rule, regulated by the following critical parameters:
● Minimum overall dimensions.
● Absence of foundation.
● Small power consumption.
● Simple assembly.
Theming, enormous throughput, mind-boggling effects, and cumbrous walkways are not suitable for mini-parks. We offer the following range of inexpensive and easy-to-maintain classical rides for such parks.
● «Little Sailor" or «Wasp» swings
● Kiddie Panoramic Wheel
● «Puss in Boots» Coaster
● «Old Witch" Wave Swinger
● Mini bumper cars
● «Pilots» carousel
● «Tea Cups» carousel
● Children's railway
● «Mirror» carousel
● Drop Tower 12-17ì.

Although all those rides are intended for children, they have been designed and manufactured according to the European standard EN 13814, and they are absolutely safe, easy to control and boast bright modern lighting.
In case of a ride package order from us, you will save your money thanks to the «wholesale» discount, free consultations on the park work arrangement, and due to the fact that you obtain all goods from the same supplier.
We can also undertake the equipment delivery to your town and «turn-key» assembly of all rides.
We offer various flexible methods of payment and are prepared to make allowances for the customer's financial situation.




"Medium-sized park" is naturally a conventional concept. Under this notion we understand a city park that already exist but which requires overall modernization. In can be said for sure that this is a main type of parks that we have in Russia at the moment.

As a rule the area of such a park does not exceed 10 ha, the park is located within the city boundaries; it has convenient access ways, infrastructure, necessary service buildings, fencings, parking lot etc. Medium-sized park consists of 15-20 amusement rides.
Examples of such park are "Topolya" (Poplars) park in Orenburg (Russia), Extreme park in Mariupol (Ukraine), "Island" park in Yaroslavl' (Russia). Personnel of these parks is rather experienced to work with machinery, large amusement rides have concrete foundations. There are also restaurants, coffee-houses. Festivals, feasts, concerts are held in these parks. That is why amusement rides of all categories are in demand in such parks: kiddie rides as well as thrilling. Depending on weather conditions a park can include a zone of water rides, swimming pool, concert stage. The most important requirements for the rides in such parks are the following:


● Attractive exterior.
● Possibility to work in all weather 360 days a year.
● High capacity during peak-days.
● Low noise level.

Our amusement rides are successfully operated in a number of city parks in Russia. We recommend the following basic rides:

● Panoramic Wheels from 31 up to 80 meters.
● Roller Coasters of "Wild Train" series.
● Roller Coasters of "Formula" series.
● "UFO" Swings.
● "Mars" Swings.
● Free Fall Towers 25-40 meters.
● Roller Coasters of "Cobra" series.
● Big Merry-go-Round.
● Large Chain Carrousel.

To the list of the "adult" rides offered above there can be added a range of kiddie rides with which you can get acquainted in chapter SMALL PARKS.
All amusement rides are designed and manufactured in compliance with European standard EN 13814. They have service life of 35 000 hours, equipped with illumination and automatic control systems based on technologies of SIEMENS.
Control systems are equipped with heating that makes it possible to operate them in winter time. It is important especially for the parks of Siberia and the Far East.
Capacity of the rides can achieve 1200-1500 persons per hour allowing to get good receipts within short but intensive summer months.
By ordering the rides from our company as a single set you will considerably save due to having "wholesale" discount, due to having free of charge consultations as to how to arrange operation of the park.
We can take care of equipment transportation to your city and "turn-key" assembly of all rides at your place.
We offer different schemes of payment and we are ready to take into account individual financial possibilities of each buyer.


We apologize for the page not having been finalized yet.






Our company has designed and built several parks which are based on rides of our own manufacture.




Ride park at VVTs near the Panoramic Wheel, which was erected to commemorate the 850th anniversary of Moscow, has been operating for over 10 years. The Panoramic Wheel has been the capital's landmark and the pride of Pax Company for over 10 years.
The ride park was born at the foot of the wheel and is now thrilling its guests with such sensational rides as the extreme loop coaster « Astro- Pax», the giant swing «Ìàðñ» with a full revolution, the «Comet» ride and many other attractions for adults and kids.
The VVTs park is a favorite leisure spot for Muscovites and visitors to the capital.
The park features well-developed infrastructure: numerous cafes, amusements, redemption games and game arcades.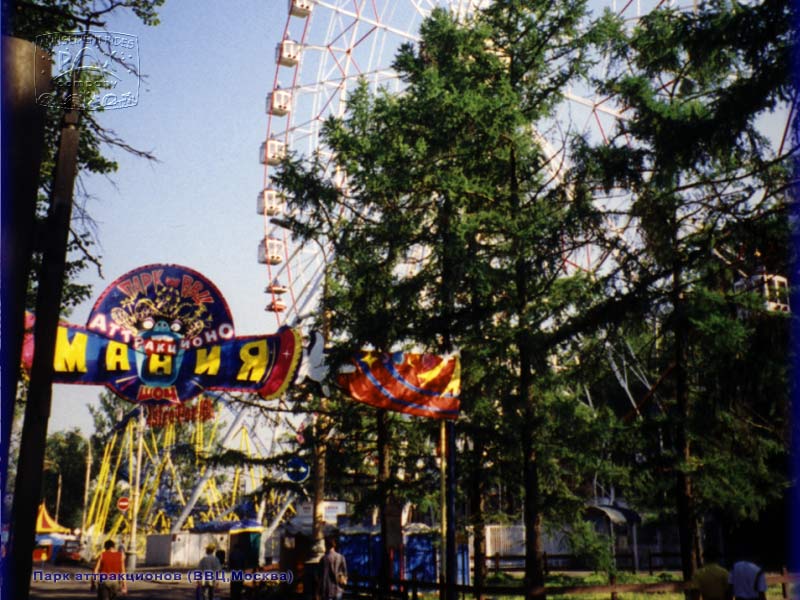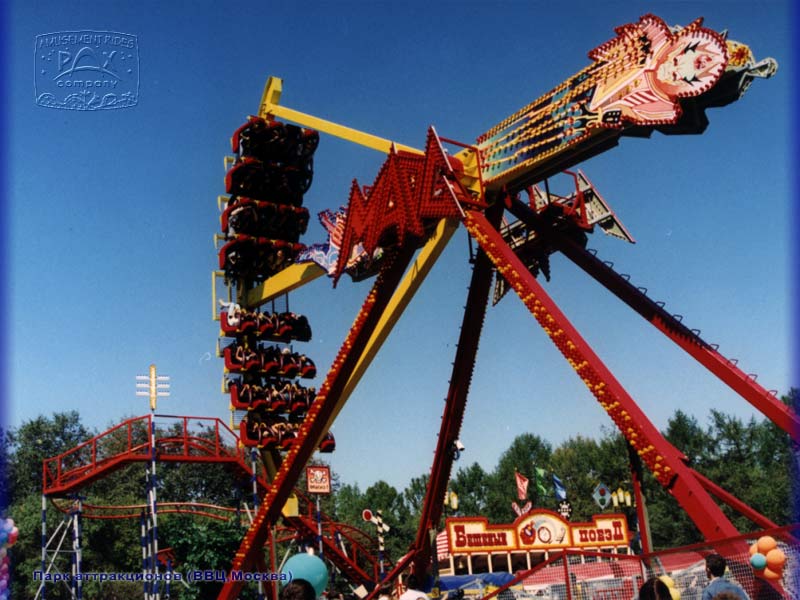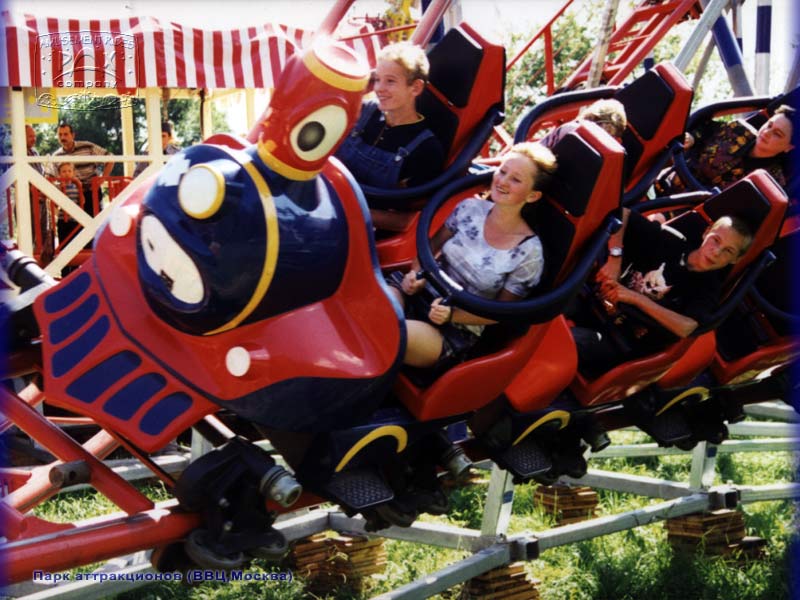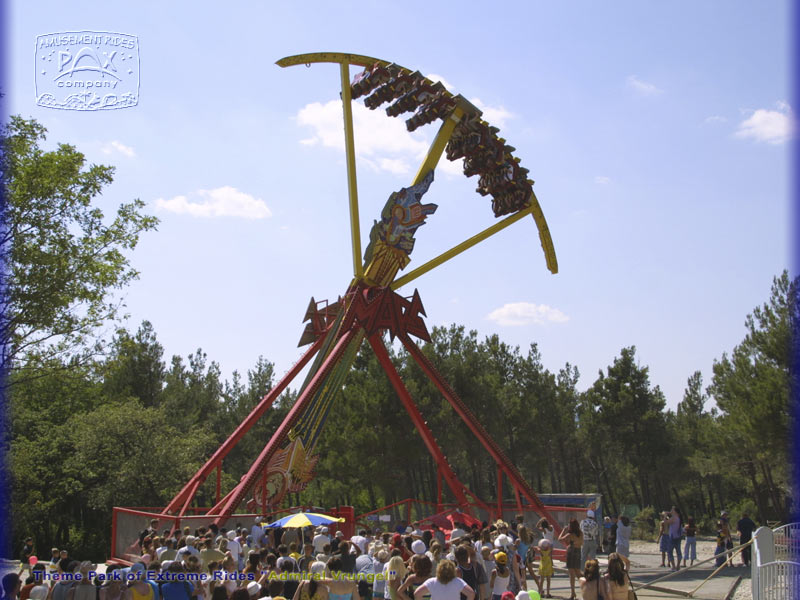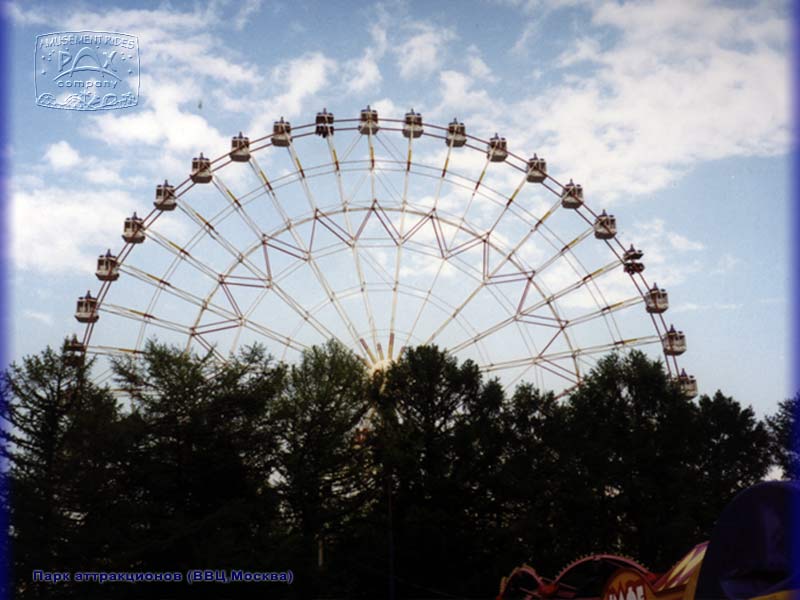 All pictures ... >>




Pax Company has created a concept and designed Ukraine's first family mini-park in the town of Mariupol. Inauguration of that entertainment park, which is basically a novelty for Ukraine, turned into a memorable event and attracted lots of guests. This impact was by no means accidental. Why, the concept of the new extreme park development has brilliantly integrated the «Sweet sensation of fright» motto.
Guests, tired of numerous problems facing them and basically left in the cold by the amusement industry, enjoyed the holiday and their new sensations. The «Free-fall tower» - a hands-down winner of the Pax company products popularity charts – attracted the greatest number of admirers. Passengers, seated in a comfortable gondola and securely fastened with special seat belts, soared upward to the altitude of 24 meters, and then plummeted towards the ground at a breathtaking speed to be braked at about one-meter distance from it. During the ride they could experience an unforgettable feeling of free flight.
The «Wild Train» ride provided family thrills. Passengers were whisked in a train 15 meters above the ground, at a speed of 45 km/h, performing sudden turns and delighting at the new sensations.
Last but by no means least, was the magnificent Panoramic Wheel, which is an all-time favorite and a signature ride for any park.
From the height of 31 meter, park guests could admire the splendid view of the sun-drenched Mariupol.
The following Pax rides were installed in the park:
- a «Wild Train – 8» family roller coaster,
- a «Panoramic Wheel – 31ì.»,
- a «Free-fall tower - 24» extreme ride,
- a «Wasp» family swing,
- over a dozen other various rides for children and adults.


The company is proud of its unique creation – Russia's only theme park «Admiral Vrungel» in Gelendjik, on the Black Sea coast. The ride park was built on the site of a wooded national park and is harmoniously integrated in its setting. The stunningly beautiful location boasts exotic plants, lovely mountain views, pure and crystal-clear air, and, undoubtedly, various marvelous rides.
There is a summer stage in the park, where many pop stars have already performed:
Irina Saltykova, Alena Apina, Lyon Izmailov, Yulia Nachalova. Filip Kirkorov also experienced extreme sensations on the park rides and commented on them very favorably. The park is the venue of festivals and concerts, contests and masked balls. People's artist of Russia Mr. Pankratov-Cherny, the «Detective Club» president, held a regular club meeting in our park and congratulated Pax Company on having set up this incredible entertainment facility on the Black Sea coast!
The «Admiral Vrungel» park features well-developed infrastructure: numerous cafes, midway rides, arcade games, and amusements.
Park's pride are its rides:
- a Panoramic Wheel 75 ì in diameter,
- a kiddie Panoramic Wheel,
- a mega looping coaster «Cobra»,
- a giant swing with a full revolution «Mars»
- a kiddie swing «Wasp»
- various water rides,
- all kinds of rides for all ages.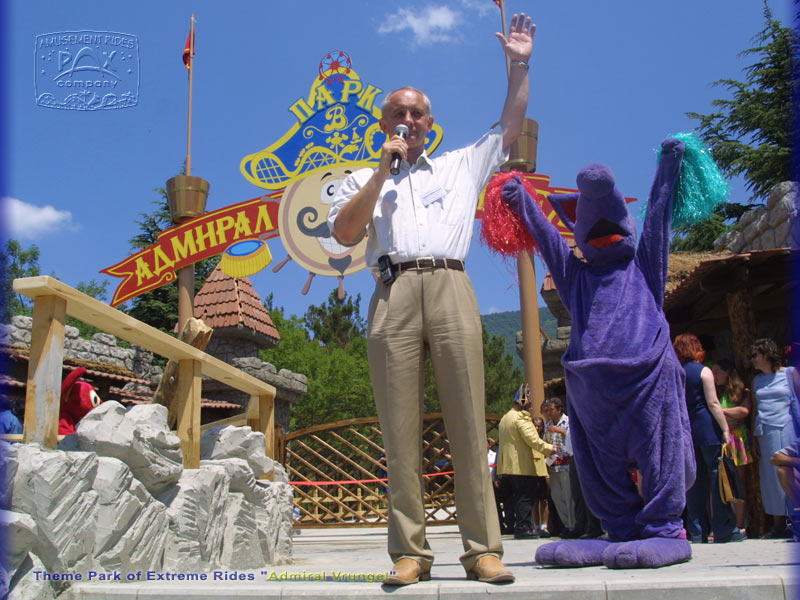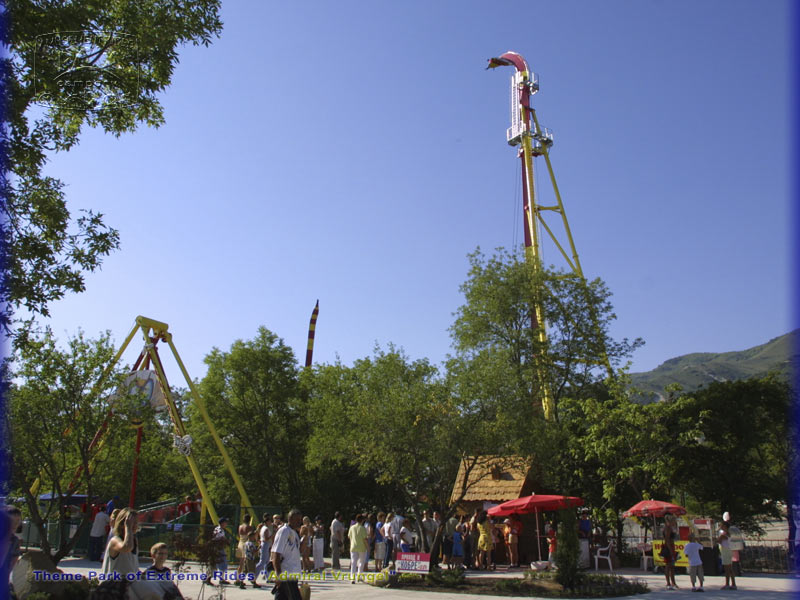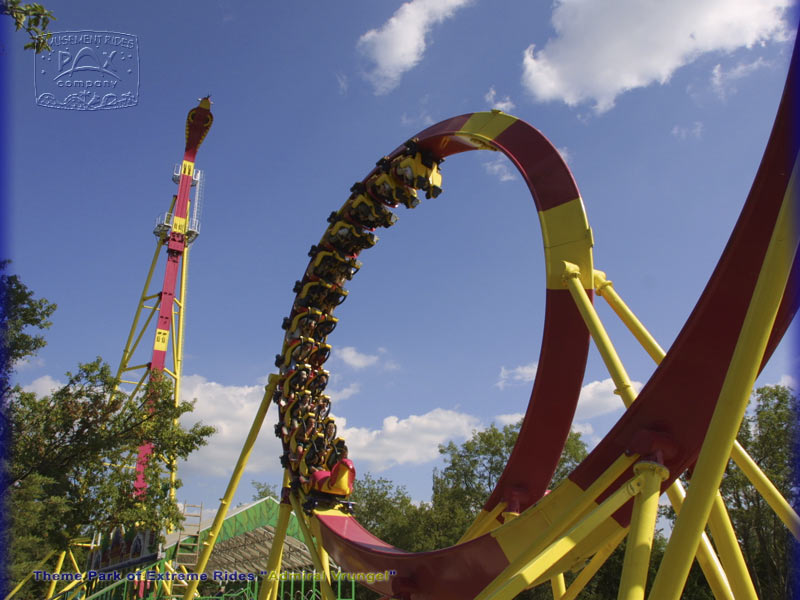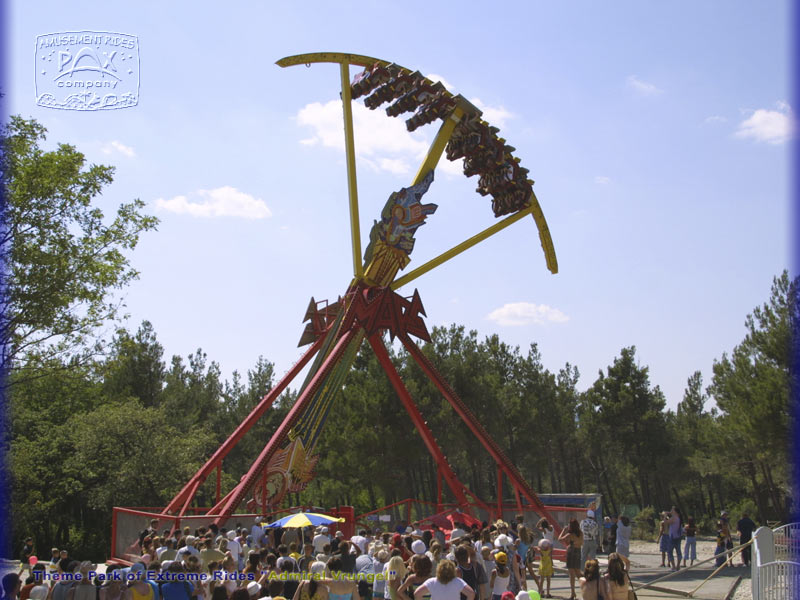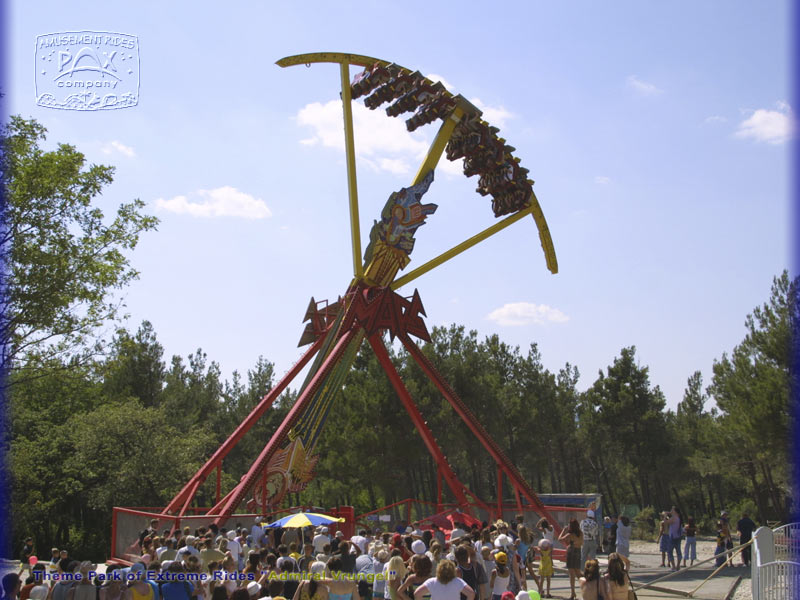 All pictures ... >>